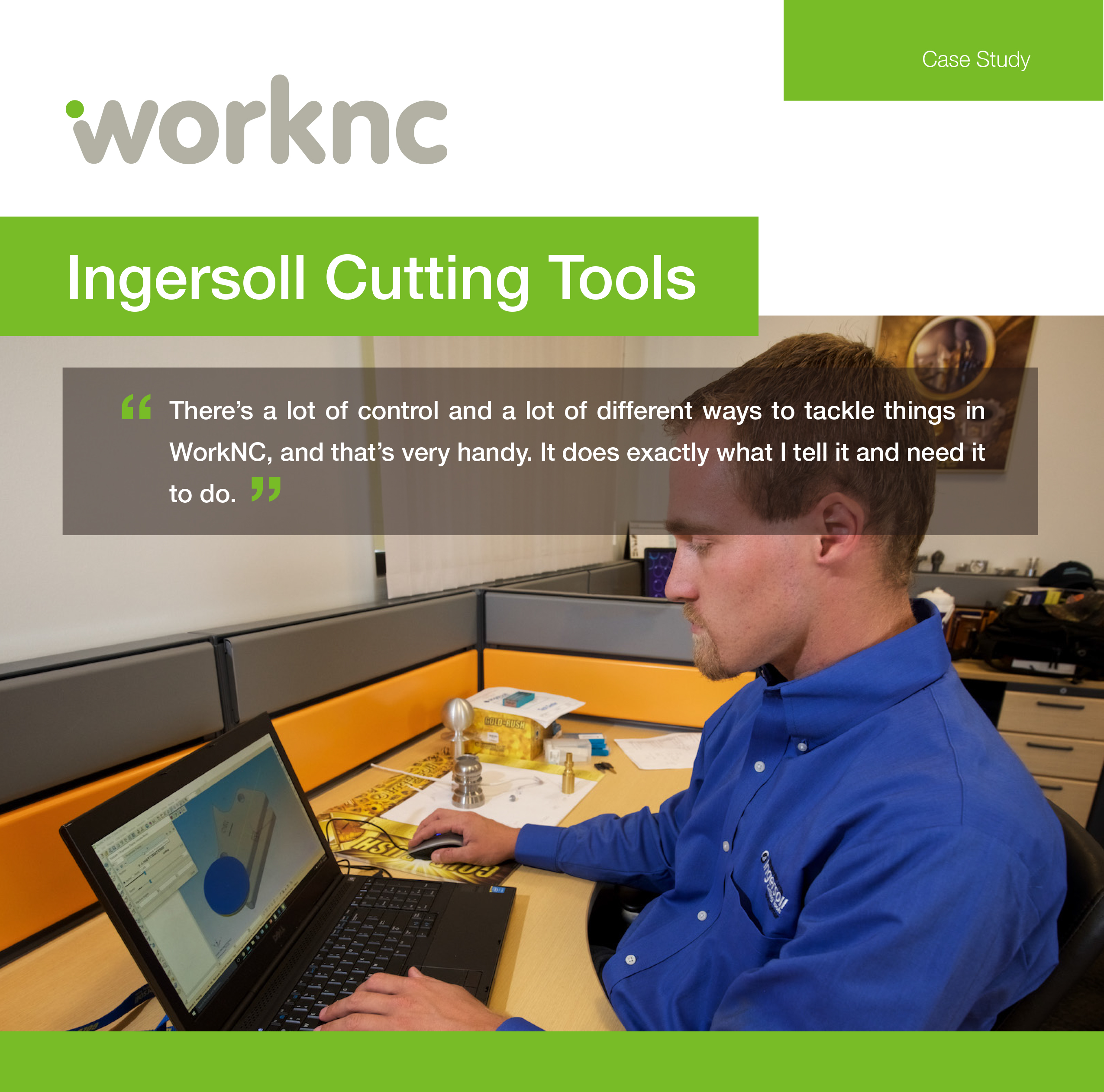 WorkNC CAM software is the premier automatic CNC software for surface or solid models in mold, die and tooling businesses for 2 to 5-axis CNC programming. WorkNC is a leading solution for the most demanding industries such as Automotive, Aerospace, and Mold & Die.
Where the Carbide Meets the Stainless Steel
Ingersoll Cutting Tools tests its tooling with help from WorkNC


If there is such a thing as a laboratory for tooling, the tech development center at Ingersoll Cutting Tools is surely that place.
While the center isn't equipped with mad scientists and test tubes bubbling with green liquids, Tech Center Manager Bri
an Rasmussen is indeed a scientist in his own right. Tasked with testing and troubleshooting new tooling for the Rockford, Ill., fac
ility, Rasmussen and his team are integral when it comes to making art into working parts.
"We do all the developmental testing to dial in new customer parts," says Rasmussen, who has been with the company for 19 years. "We work closely with our customers to ensure that our test conditions are valid to their conditions in production. Our customers' agreements regarding the test design on the front-end of a project is crucial towards making valuable conclusions in the Tech-Center."
Ingersoll Cutting Tools, historically renowned for its prowess in the production of milling tools, today manufactures a wide range of milling, turning, and drilling tools, as well as tool holders. In 2000, the company was acquired by the International Metals Company, which was then acquired by Berkshire Hathaway.
"Since our acquisition," Rasmussen explains, "we have expanded our extensive standard and special milling product line to become a full-line supplier to our customers. This now includes standard turning tools, hole-making tools, solid carbide and modular ro
und tools, precision modular boring tools, and a complete family of high-speed PCD and CBN milling products."
To manufacture, demonstrate and test its tooling, Rasmussen and his three CNC programmers have used the WorkNC computer-aided-manufacturing (CAM) solution, by Vero Software, since 2005.
While tooling designs originate with Ingersoll's engineering team and products are produced by its manufacturing department, the tech center is the laboratory where the rubber starts to meet the road — or the carbide starts to meet the stainless steel.

Equipped with WorkNC and a collection of 3-axis mills and 2-axis lathes, the troubleshooting team find that the flexibility and reliability of WorkNC have made it an ideal solution for its needs.
"WorkNC is very reliable software," says R&D Applications Technician Bradley Johnson, who has been with Ingersoll for nearly five years. "We generate a lot of complex tool-path in the Tech-Center with WorkNC, and I know it will always be correct and efficient."

Johnson credits WorkNC with delivering an optimal level of control to the programmer, as it allows him to program features on the fly — even if they don't appear in the solid model.

"I use the tangent-to-curve toolpath if I'm in a time crunch and the designer doesn't have time to add a feature in the part, but I know where it needs to be," Johnson says. "It violates the model, but it allows you to put the feature there. It gives you complete control and allows you to do what you need to do.
"Tangent-to-curve toolpath is perfect in my line of work because it allows me to control precisely what I'm doing. It allows you to lay out any line on the part that you want the cutter to follow."
The tangent-to-curve toolpath is ideal for the machining of features by direct selection of vertical surfaces, or by automatic wall detection, following planar surface selection.
"You also have a huge amount of control after you use the tangent-to-curve in terms of stepovers, stepdowns, ramps — you have all of those options," Johnson says. "You can use any kind of tool that you want, an end mill, face mill, slotter; the options are amazing."
Johnson also takes advantage of the hole-machining capabilities in WorkNC, which use accurate feature-recognition technology to negate the need for manual data entry. While WorkNC will automatically use feature recognition to identify all of the holes to be machined, Johnson especially likes the software's manual hole-machining option.
"If you have a solid model with different holes at several angles, manual hole machining allows you to highlight holes and from there you can just click," Johnson says. "This option saves you a lot of time. Otherwise, the only other way to do it in is to find your holes, find the center, give it a point and depth, and tell it to drill."
WorkNC uses feature recognition for automatic hole machining, which allows programmers to find and mill all cylindrical shapes. While feature recognition, paired with pre-defined templates, allows users to program hundreds or thousands of holes almost instantly, manual hole functions are used without pre-defined templates. Because Johnson's job requires that he is able to program features on the fly, the freedom to easily add those features is one that he prizes.
To cut down on cycle time while maintaining part quality, Johnson uses WorkNC's adaptive trochoidal roughing toolpath, which is typically used to machine hard materials and, or, when machining with a large Z-step.
Designed to limit tool loading in pockets and corners, this toolpath delivers optimized machining conditions by way of trochoidal movement, or the circular movement of a cutting tool as it passes along a straight line. Adaptive trochoidal roughing, which is performed in climb mode, also increases tool life.
"The trochoidal roughing toolpath on its own can save a lot of machining time," Johnson says.
For Johnson, whose job — like those of most manufacturers — demand that he be able to quickly solve problems, the benefits of WorkNC are the flexibility and reliability that it delivers.
"There's a lot of control and a lot of different ways to tackle things in WorkNC, and that's very handy," he says. "It does exactly what I tell it and need it to do."
Bradley Johnson
R&D Applications Technician
Ingersoll Cutting Tools


"We generate a lot of complex tool-path in the Tech-Center with WorkNC, and I know it will always be correct and efficient."